Je veux acheter un portable. Mais lequel ? --CC--
Par clubinfoal le jeudi 17 mars 2016, 13:25 - Technique informatique - Lien permanent


Dans un club informatique, une question est souvent posée : "Je veux acheter un portable. Que dois-je choisir ?"
La réponse est invariablement : "Pour quoi faire ?".
En effet le choix d'un portable dépend de l'utilisation à laquelle il est destiné. Pour vous aider dans ce choix, j'ai composé une échelle à 4 niveaux, qui n'engage que moi, qui ne précise aucune marque, mais donne un aperçu des composants principaux, constitutifs de chaque catégorie et justifiant les différences de prix.
Mais il faut savoir qu'en informatique, il n'y a pas de miracle : si l'on veut de la puissance, il faut en payer le prix, sauf si on a la chance de tomber sur une vente flash, ou une fin de série.
Voici donc ce schéma. Le niveau 500 euros est matérialisé par la flèche rouge. A ce prix, en cherchant bien, on peut avoir une des configurations suivantes, pour un 15 pouces :
-soit (par exemple) un proc Intel core i5 + 6 Go de Ram mais un chipset graphique intégré (sans mémoire dédiée) et un disque dur de 1 To
- soit (par exemple) un proc Intel core i5 + 4 Go de Ram avec en plus une carte vidéo avec mémoire dédiée (1 ou 2 Go) et un disque dur de 1 To
Ces 2 configurations sont satisfaisantes et se valent à peu près, car les 6 Go de Ram viennent compenser l'absence de mémoire vidéo.
Pour la configuration Core i5 + RAM 6 Go + HDD 1 To + carte vidéo avec mémoire dédiée, il faut être juste en dessous de 600 euros ou bien entre 600 et 700 euros. Cette configuration me semble idéale.
Dans la fourchette 400 euros - 500 euros, on trouve la configuration acceptable de base : Intel core i3 + 4 Go de Ram + 1 Hdd de 1 To qui permet de travailler confortablement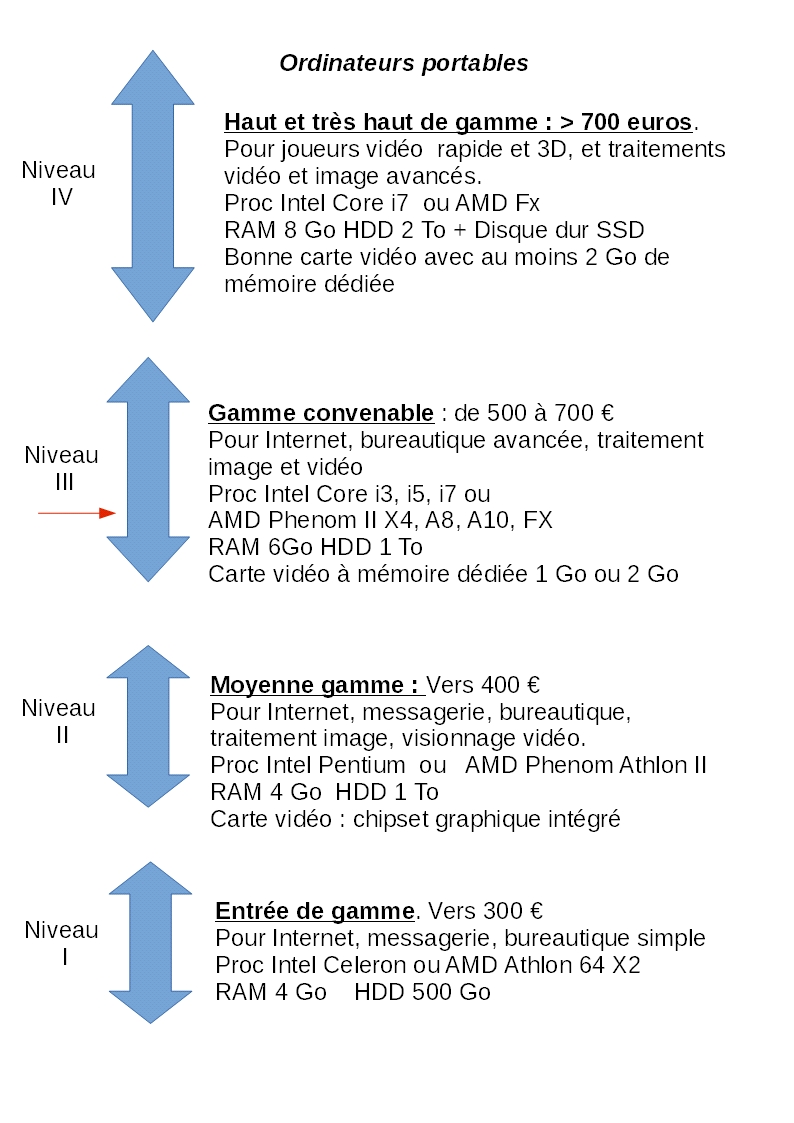 Avant tout, la configuration doit être équilibrée. Inutile d'avoir 8 Go de Ram et une carte vidéo avec 2 Go de mémoire dédiée, si le portable est animé par un processeur Céléron.
Et lorsque l'on achète, il faut anticiper : prévoir les actions que l'on ne fait pas encore mais pour lesquelles on est susceptible de craquer dans l'avenir : la vidéo est un exemple typique.